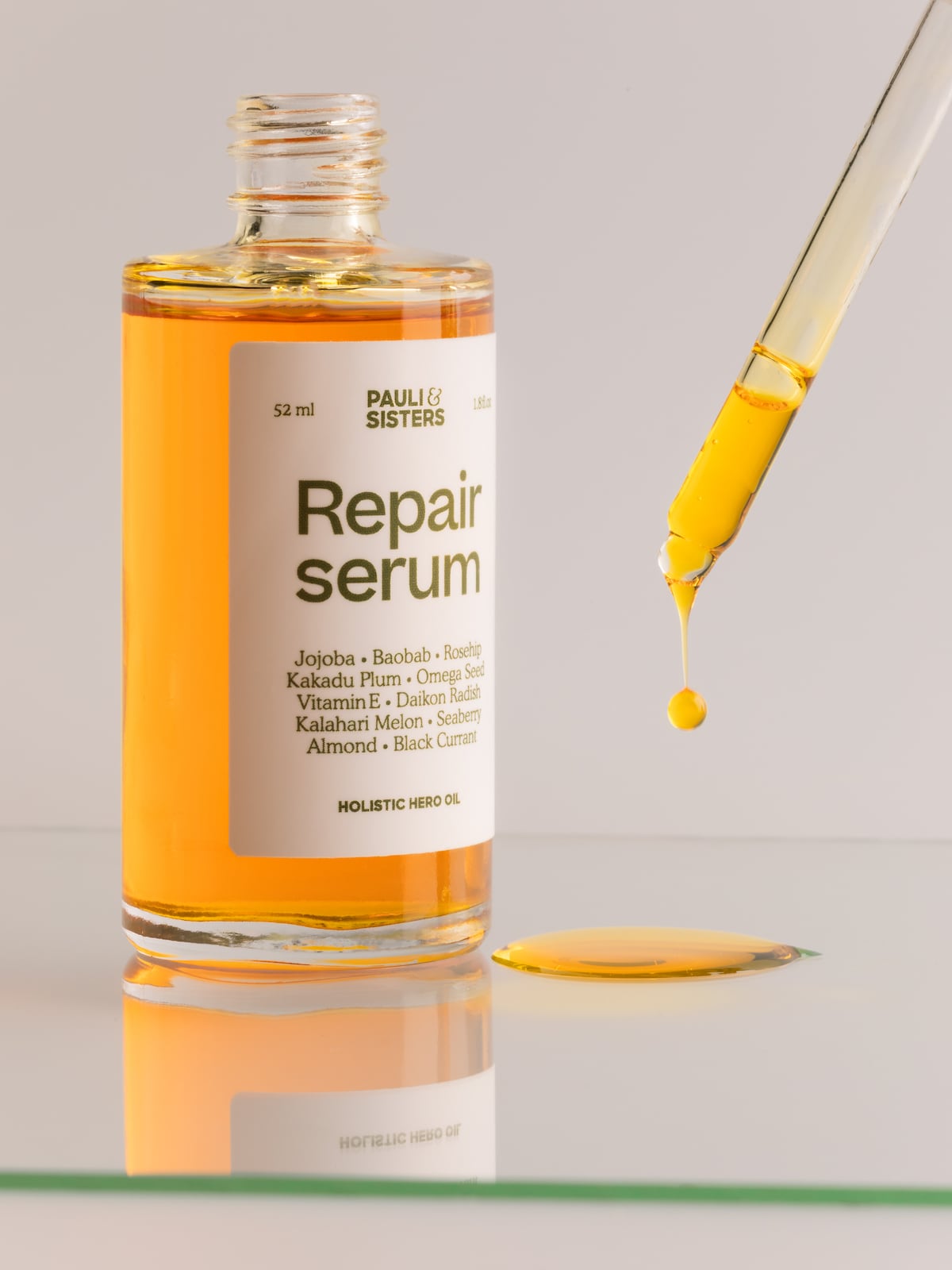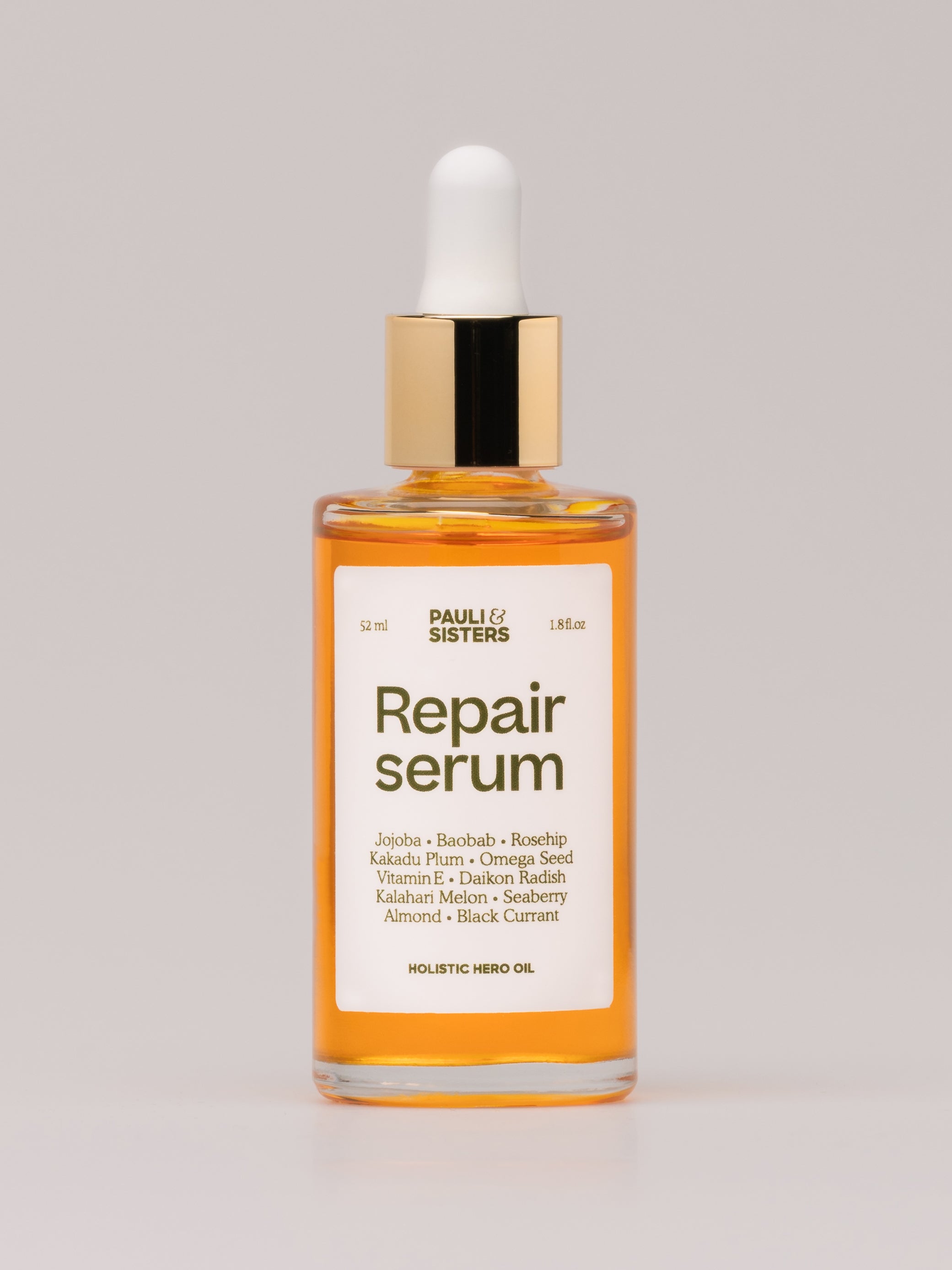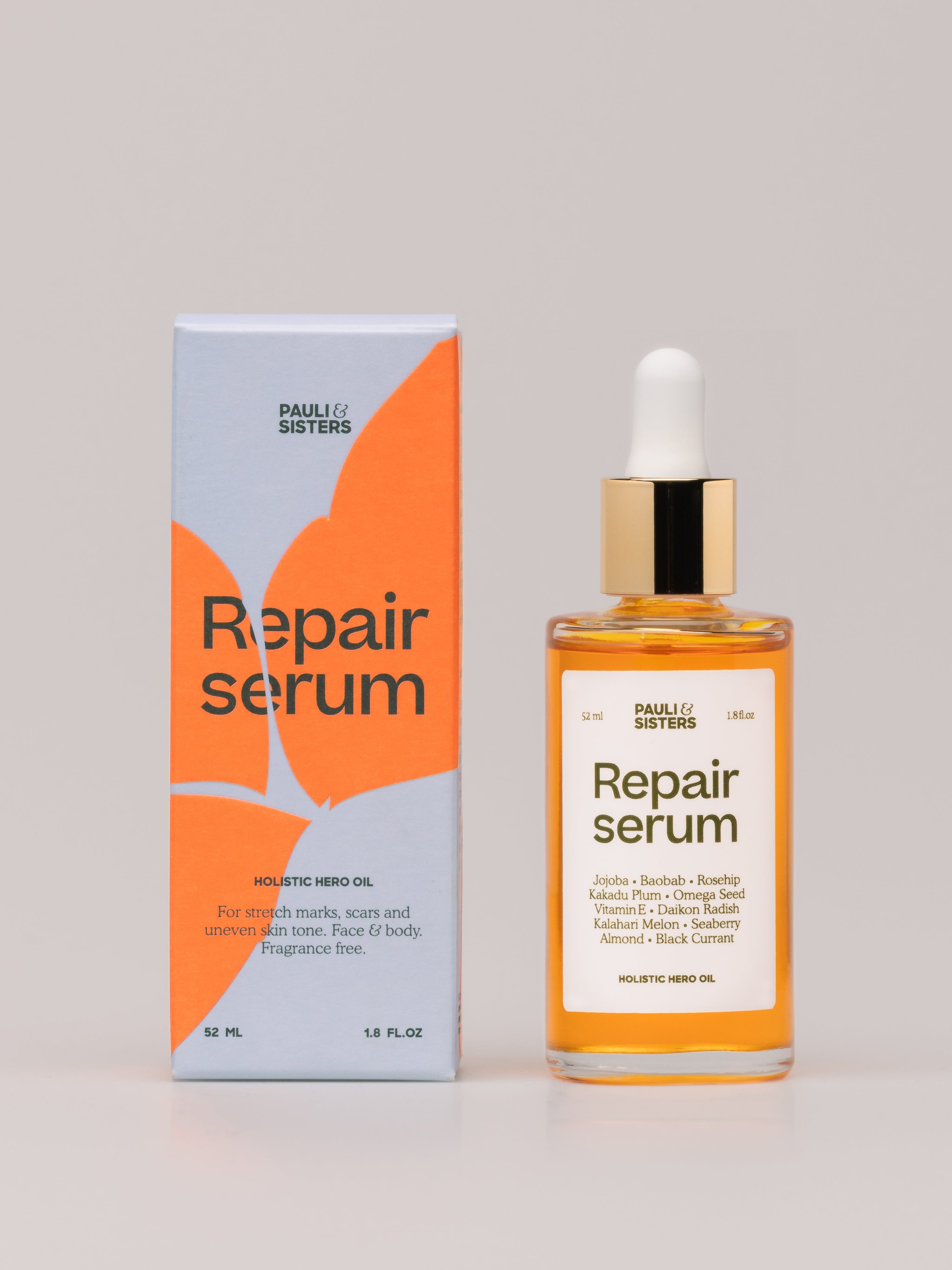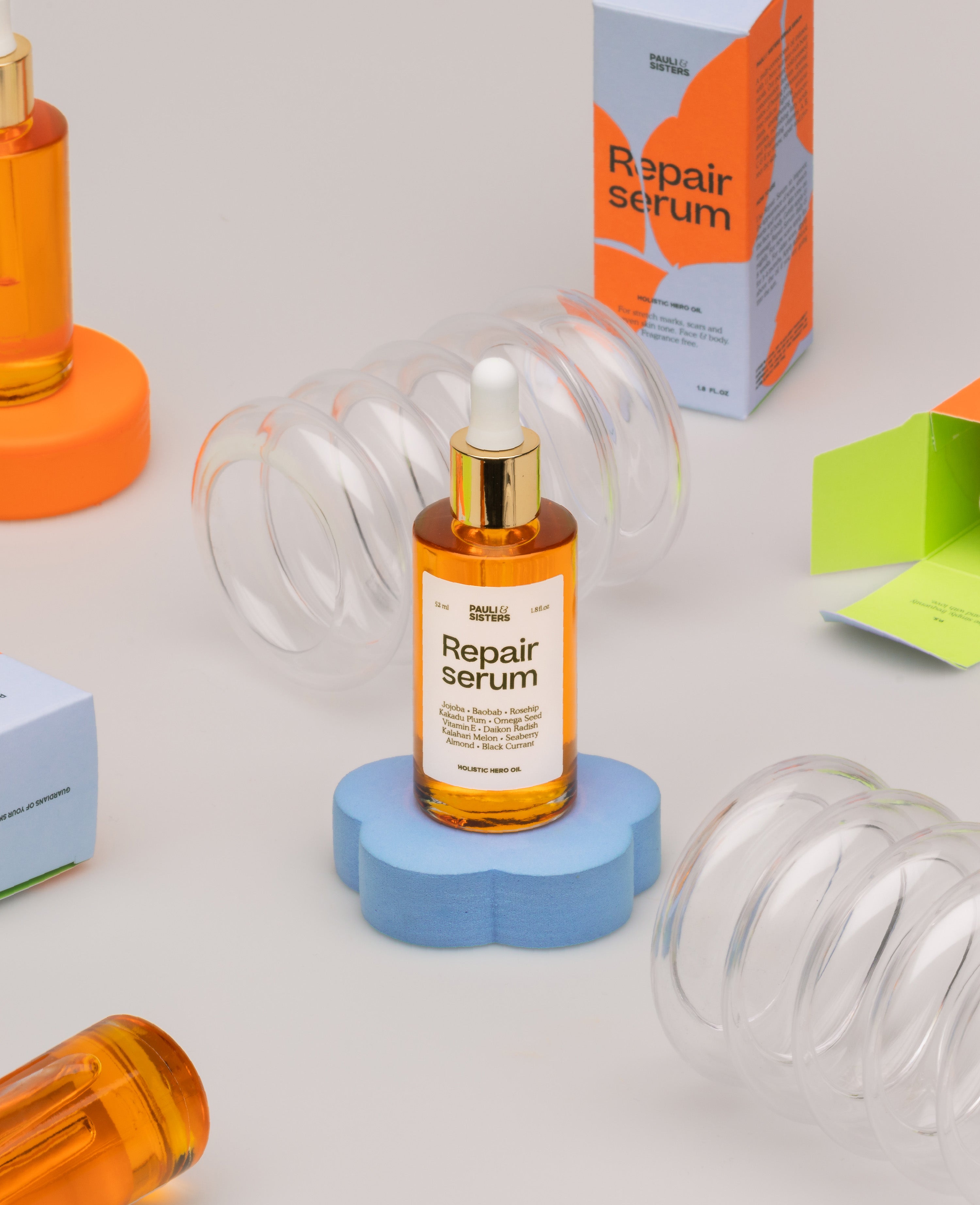 Repair Serum
Pauli & Sisters Repair Serum is a powerful, multi-correctional oil infused with 11 hero nutrient-rich botanicals. Each of our hero ingredients serves its own purpose. The infusion of all 11 are made to repair your skin of stretch marks, scarring, uneven skin tone and more. Our potent cold-pressed concentration delivers optimal ratios of healing phytonutrients, free-radical fighting antioxidants, strengthening phytoceramides, nourishing fatty acids, and brightening vitamins to renew, repair, and protect the skin.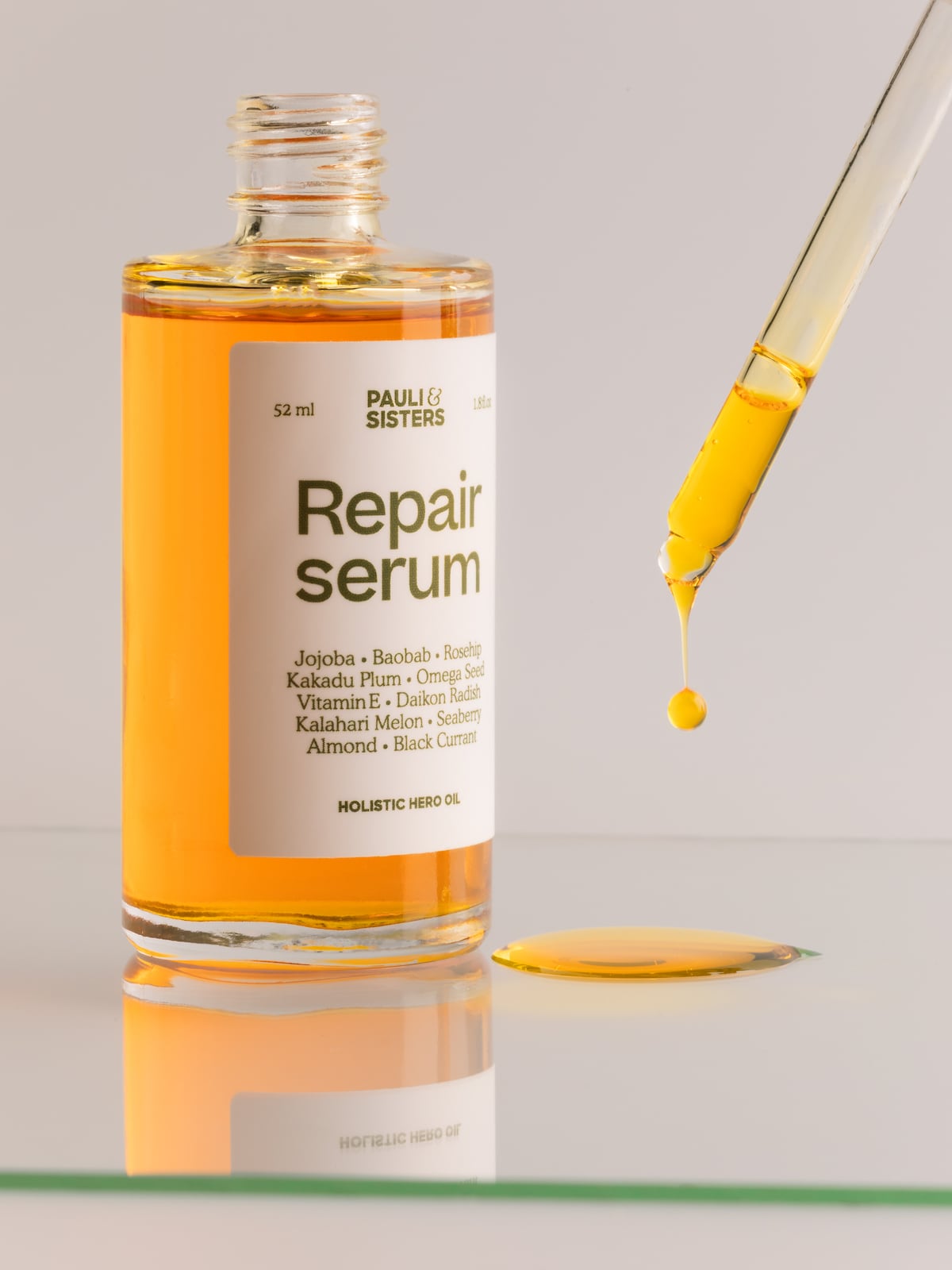 Testimonials
Best product ever. Wrinkles under my eyes are diminished. I had sores on my hand from frequent washing which bled a bit. This product helped that too my hands are all healed. People have commented on how lovely my skin looks.
– Desiree Dennen
Wow. Honestly, just wow. This serum makes my face and lips feel so hydrated and loved. I use it after I wash my face morning and night. I can literally see my hyperpigmentation fading more and more each day, which is obviously so exciting for me! I love this serum and could never do without it again. My skin is feeling it's best glowy, healed little self, thank you!
– Lani Florita
This product is magical. I have very dry skin and not all products work for me. When I use this serum my skin is hydrated and feels silky smooth. Phenomenal customer service. The packaging/branding is so clean and cute, which is a great added bonus. I have been recommending this product and will continue to do so!
– Jeannie Horovitz
I can't say enough positive things about this product. I've never been super good about my skincare, so I wanted something natural and reliable to fight the damage it's been through over the years. This serum has saved, brightened, and nourished my skin after years of sun damage and dark spots from swimming my whole life. I love that a little bit goes a long way with the ingredients Pauli & Sisters uses, so I highly recommend this serum for any and all of your skincare needs :)
– Casey Jordan
This serum is absolute gold! I can honestly say my face has never glowed or felt this smooth until I added Pauli & Sisters to my daily skincare routine. As someone who uses acne medication, I've always been hesitant to try any new serums or oils, but I love what this one does for my skin! I even use it for cuts, scrapes, and acne scars and it has done wonders in just the few weeks I've been using it!
– Lauren Dorame
So so so beyond stoked with the Pauli & Sisters serum. I have been putting it on every night before bed, on my face,lips, and body. It has saved my life during the rough winter months of dry skin. I'm feeling more hydrated and plumper than ever. Also doesn't hurt that the packaging is so damn cute and looks good in my bathroom!
– Bailey Daniels
This serum is an absolute must have. Not only does it smell good, but it has made my skin look and feel amazing. I have the most sensitive skin and this didn't make me break out like a lot of other serums do. I also love mixing it in with my body lotion and it sinks into the skin so quickly and without any feeling of oiliness. Seriously amazing!
– Morgan Buckley
"Thought I wouldn't be able to find the perfect serum for my skin, but here I am - feeling more confident than ever and loving the improvements this serum has already given me. I mainly use this repair serum on my stretch marks and it has been a game changer! The marks are becoming less noticeable and its giving my skin a nice, even tone. If you have gone through trial and error trying to find a serum for your stretch marks like me, this little miracle worker is just what you need!"
– Sahar Sardar
"I have tried so many products throughout my skin journey, and nothing is as moisturizing as this serum. It makes my skin feel so bright and clear in the morning and the whole day. I also apply it with my makeup and it makes my face just glow. Cannot recommend this serum more!"
– Sierra Christopher
Kissing my winter skin goodbye with this new holy grail serum! I have always struggled with extremely dry skin and as we all know winter weather makes things worse. What I love about this product is it actually locks in moisture and leaves my skin glowing & feeling refreshed! I've added this to my skincare routine for about a month now and will never leave.
– Morgan Frobe
Seriously guys this is the best product ever! And it's cheaper and BETTER QUALITY THAN ANY OTHER REPAIR SERUM I'VE USED pauliandsisters repair serum is amazing!!!!
– Cristi Cesare
For my newly glowing skin I wanted to leave an equally glowing review for Pauli and Sisters. My face and back have struggled for decades with the horrible cycle of acne then scarring, repeat. In the first few days of using the repair serum my skin went through a purging phase and I was worried to think it might not work for me, but I kept using it as directed every morning and night. I'm now two weeks in and my dark spots are almost completely faded away, fine lines smoother, and no new breakouts. Aside from sunblock, I truly believe that this is the last product I will ever use to treat and protect my skin. Each oil added has a specific purpose and low comedogenic rating, which means no pore clogging, just complete hydration and genuine nourishment. I've done my homework and clearly Pauli and Sisters have too. So grateful for people who put such care into creating a product that delivers exactly what it promises.
– Cara Velazquez
What's NOT to love about this amazing product? My skin feels smooth and supple when I use it and when I forget to put it on in the morning, I am aware throughout the day that something is missing. I have always had noticeable pigmentation on my neck but consistent use of this repair oil has significantly reduced the darkness of the pigmentation to the extent that I have to really look for the dark areas, which, before using Pauli and Sisters, you couldn't miss. Finally, I absolutely love the smell of the combination of the ingredients. It is fresh and earthy and completely natural.
– Jeanne Buckley
I have been using Pauli & Sisters repair serum for a month now. I love it. It absorbs into my skin with no oily residue, my face feels wonderful after using it. I have some blemishes on my face that are now lighter. I also had a bad bike accident and have scarring on my knees, the repair serum is really helping in healing my knees. It is a wonderful product which I will use forever. Thanks so much for this amazing serum.
– Claudia Dennen
About 3 weeks ago I bought a couple of bottles of Pauli & Sisters Repair Serum and gave my parents a bottle to try. My father has Actinic Keratosis on his head and arms and in the past they have used many prescription and over the counter products which haven't really helped much. So this is my ShoutOut to all these 11 hero oils in one bottle that have been a total game changer for my father. Not only has the raised hard scaly patches on his skin gone the pigmentation and age spots have started to lighten as well. Thank you Pauli & Sisters, I am totally hooked and will be a fan for life. Expect my next order very soon.
– Daniela Nastrini
The sun hasn't been kind to my skin and it is now showing more than ever as I have reached 50. Being a sun loving South African child in the 1970's I lived outdoors and back then there was no such thing as applying sunscreen. If I knew then what I know now, right? I have been using this little magic combination of 'HERO' oils for about 4 weeks now and there is a noticeable change in the hyperpigmentation (age spots) on my arms, face and chest areas, while at the same time my skin is feeling more nourished and hydrated. Your product has become a daily ritual for me and I am happy to say that your Repair Serum is now my Go-To product for all my skin needs. Filled with gratitude.
– Angie Samantha Montresor
Load More

↓