The Pauli Promise
At Pauli & Sisters we believe that you can heal your skin with the perfect balance of natural oils. Our product is formulated to correct dryness, uneven skin tone, scarring, and stretch marks. We're all about using only the good stuff.
About us

→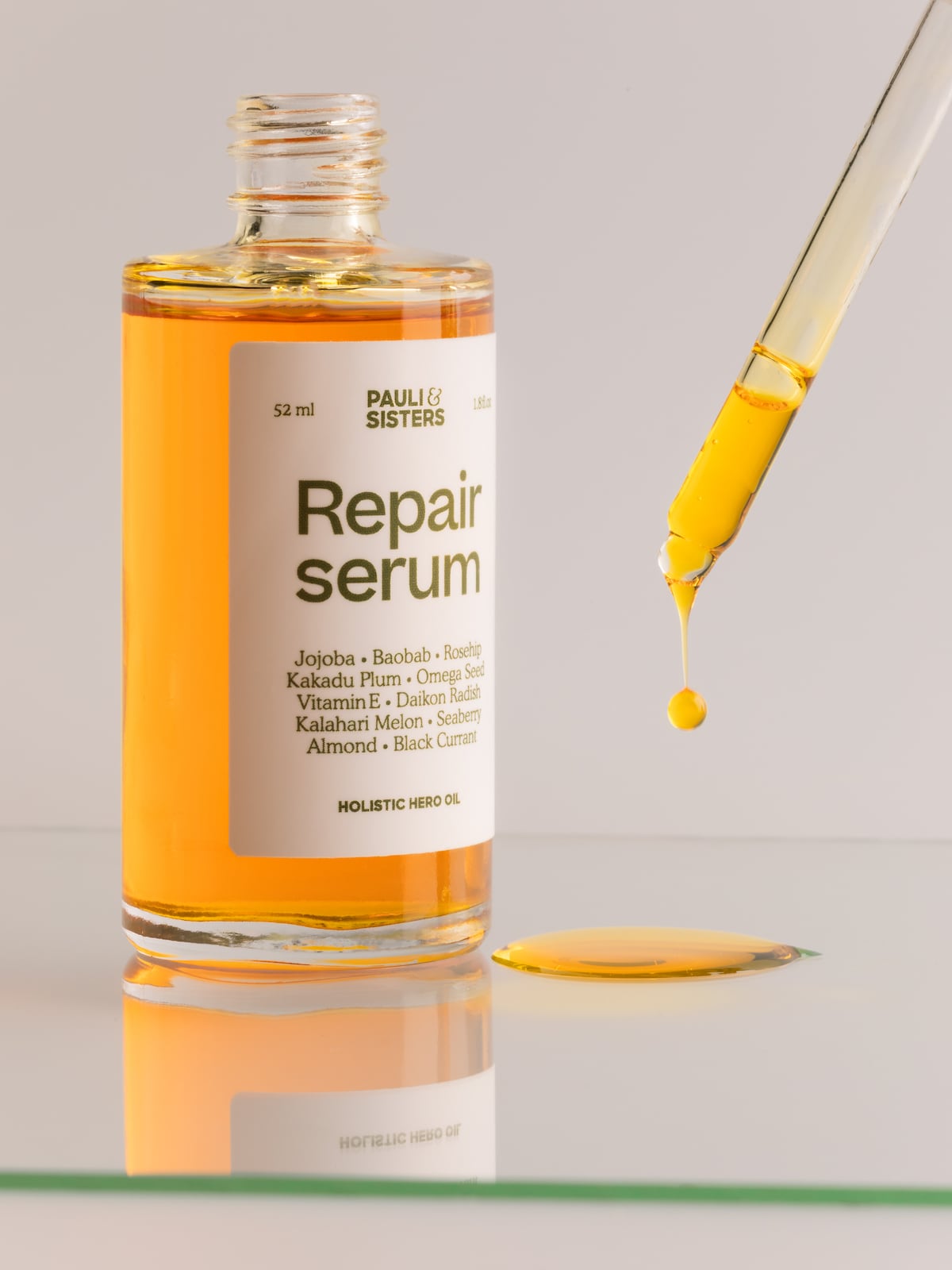 A multi-correctional oil infus­ed with 11 hero nutrient-rich bo­t­a­nicals.
11 CAREFULLY FORMULATED INGREDIENTS
It starts with every ingredient being a hero ingredient. We don't pack our formula with ingredients for marketing purposes. Pauli & Sisters has 11 ingredients each carefully formulated over a 2 year period to give your skin the love it deserves.
Discover more

→
Simmondsia Chinensis Seed Oil (Organic Jojoba) is a natural ingredient derived from the seeds of the jojoba shrub, Simmondsia chinensis.
Almond oil is derived from the (you guessed it) almond and is known for its use as a massage oil or carrier oil in treatment products.
Derived from the Baobab tree in Africa, it is often referred to as the "tree of life" for good reason. It lives for over 5000 years and can store hundreds of liters of water.
Inka Omega is a plant native to the high humid forest of the South American Andean region.
Seaberry seed oil is also known as sea buckthorn. It's a superfruit that contains a variety of nutrients and is the reason for our oil's bright orange color!
Unlike rose oil, which is extracted from rose petals, rosehip oil is pressed from the fruit and seeds of the rose plant.
Kalahari Watermelon seed oil, historically used by the ancient Egyptians, has a long history of providing nutrients and healing properties to the skin.
Black currant oil is a natural source of gamma-linolenic acid (CLA), essential fatty acid including Omega 3, 6, and 9 and a powerful antioxidant.
Vitamin E oil is a powerful antioxidant that helps protect your cells from damage! This ingredient is essential in foods and skin cell repair.
Daikon radish oil is a clear to golden color and is odorless. Used to substitute serum for skin, hair and nails!
Kakadu Plum Oil has been used for years by indigenous communities in Northern Australia.
Jojoba Almond Baobab Omega Seed Seaberry Rosehip Kalahari Watermelon Black Currant Vitamin E Daikon Radish Kakadu Plum
Natural solution to skincare problems
100% plant based with carefully picked ingredients to serve your skin's greatest barriers. Our oils do everything from boosting cell and collagen production, to easing inflammation, healing scarring, and evening the hyper-­pigmentation and circulation to the skin.
Shop

→
Affordable Luxury
Pauli & Sisters is made with everyone in mind. Our natural ingredients give you the luxury of healing your skin with natural ingredients without having to pay an arm and a leg for it.
Shop

→
No toxins
No fragrances
No preservatives
Clean & sustainable
100% vegan
Cruelty free
Organic